In my generation, a lot of kids have lost touch with their roots. Sadly, I have to admit that I am one of them. I have lost touch with my cultural heritage, which just so happens to be Mexico.
In an effort to reconnect with those roots, some Edison High School students and I have taken the opportunity to join the school's Folklorico dance group.
Folklorico is Mexican folk dancing that tells the stories of people, their lives and their culture. There are many different regions of Mexico; therefore, there are many different ways to dance Folklorico. It is a long-practiced tradition that was started way before the Mexican-American War in 1846 and is still practiced to this day.

Karla Sanchez-Parra, a junior who has been a member of the dance group for two years, said, "Folklorico, to me, is a dance that is derived from my culture and that's why I feel very attached to it."
All of the dancers in this group, including the advisor, share a love and connection to Folklorico. Those who don't know the meaning of the dances may just see them as over-exaggerated dance steps in very brightly colored dresses, but it's so much more than that.
There's a story behind every dance, every step, every movement. Each costume represents a different region of Mexico, and each region has its own folktales, legends and music.
For example, a traditional dance from the Mexican state of Veracruz is know as "La Bruja" ("The Witch"). The dance of La Bruja is a strictly female dance where dancers wear the region's traditional white lace dresses, black apron with colorful details, a shawl and their hair up in a bun with a colorful hairpiece such as flowers or ribbons. When performing, the dancers balance a single candle on their head as they dance in a dimly lit room. The dance is traditionally performed at events celebrating Día de los Muertos (Day of the Dead), as both the dance and the holiday commemorate loved ones who have passed away.
"I love performing, doing my makeup and getting ready for performances," said Esmeralda Cabera-Rojas, a junior who has been a member of the dance group for two years. "The only thing I'd say I hate is staying for practice."
But Yadira Contreras, the group's advisor, said that practicing after school has its benefits. "You want kids to be involved in school activities that take them away from other things, outside things that could influence them in bad ways," she said. "Hopefully, I do help make a difference in their life."
Most, if not all, of us dancers joined the EHS Folklorico dance group because we have a great love of the art.
Many of us also have a deep connection with it as well. It is a piece of our culture, a piece of who we are and where we are from.
Folklorico is decreasing in popularity among Americans of Hispanic descent, and no one really knows why. Perhaps it's just a lack of interest. Two years ago, a student launched a petition to start a Folklorico dance group at Edison High School. But I wonder, in a school where the majority of the students are Latino, how was there not already a Folklorico group to begin with? The current members of the Edison Folklorico dance group say it's due to lack of interest among the students.
Ricardo Cortez, a junior who has been a member of the dance group for two years, loves dancing Folklorico. But he doesn't like that no other male has joined the group. "I have a feeling it has to do with guys not really being comfortable with dancing and they think they associate the dancing with the dresses, so then they think it's more of a feminine activity rather than a male," he said. "It's more pressure on me because I have to dance more."
Folklorico can be very difficult and if you are not committed to your dance group and the dances themselves, it can be hard to understand the dance steps.
"The hardest thing is usually dealing with people who aren't as into it as I am, or not having enough guys," said Chaile Payne, a junior who has been a member of the dance group for two years.
There is a lot of multitasking at play when you dance. You must move the dresses in certain motions, smile, hold your chin up and you are absolutely not allowed to look at the ground.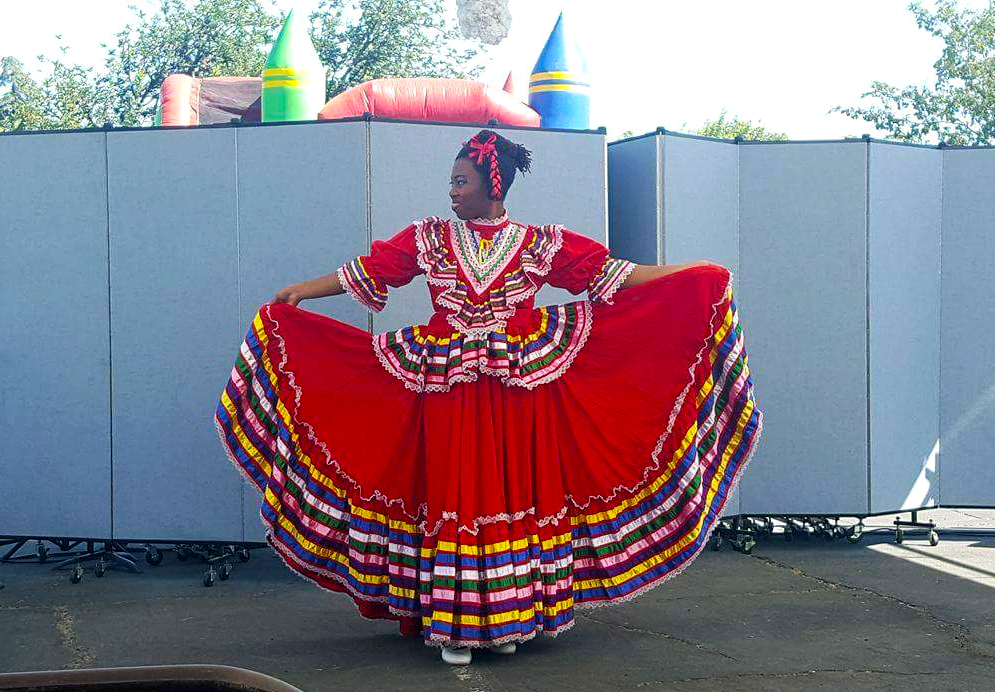 Alexis Rodriguez, one of the junior members, says that the difficulty and skill of each dance varies depending on the Mexican state the dance represents.

"For Veracruz, it's all footwork and you don't really do anything with your skirt," she explained. "But then Jalisco is a mix of both because you have complicated steps, but then you also have to move your skirt at the same time. Then for Sinaloa, the steps are really simple and it's more skirt work."
Folklorico, for many of us, is the tradition that bonds us to our ancestors and makes us feel more connected with others in the process.
Woven into the dances are stories that we cannot let be forgotten.